How about making it perfectly easy to design and operate water treatment plants?
No long planning periods. No tedious building permits. And all parts can be mixed and matched flexibly, while at the same time offering strength and tried-and-trusted performance, and always reflecting best engineering practice.
The idea evolved into ... the EnviModul.
Compile the processes you need.
Modular yet customized to your specific needs!
Components are installed to create an EnviModul modular plant.
We will pack it all into an EnviModul and supply the plant to you ready for operation.
Everything is pre-tested by our engineers – all you have to do is switch the plant on. It is ingeniously simple. You can draw on our proprietary developments – Biomar® biological procedures, Envochem® physico-chemical procedures, Flomar® flotation procedures, Envopur® membrane technology, thermal procedures, or any combinations of the same. Exactly as you need them.
Ask us for advice in compiling the best solution for your needs, or make use of our process engineering laboratory and technology centre, if necessary.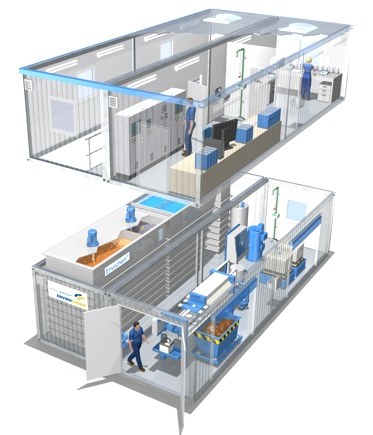 Complex tasks – modular solutions.
We combine ingenious technology with simple answers.
Our qualifications:
Certified under German water legislation
Accredited specialist firm for radiation protection
Quality Management certified according to DIN EN ISO 9001
Environmental Management certified according to DIN EN ISO 14001
Energy Management certified according to DIN EN ISO 50001
Health and Safety Management certified according to BS OHSAS 18001
SCC certified (health and safety at work)
TR EAC certified
Staff undergo continuous online safety training
Specialist in-house training programmes all year round
Concentrated engineering expertise made in Germany
Housing so much technology in such a compact space is a tricky stroke of genius. That our engineers master. And we can do more: We can configure the EnviModul flexibly to suit your requirements. Everything can be customized to your specific needs – and even expanded.
That is technology at its best. Our technologies feature as many as 20 patents.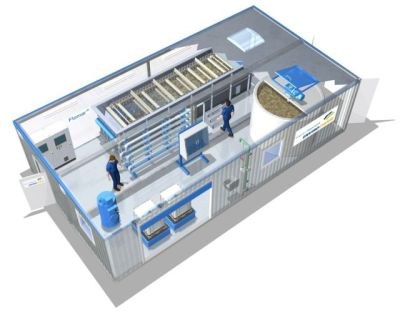 From Rossdorf to the whole world.
An EnviModul is off on a long trip.
Customer acceptance of an EnviModul modular wastewater treatment plant
We manufacture ourselves
We assemble the modular plants ourselves, and programme the plant control unit as well. As soon as your EnviModul plant is ready, you can come and accept it at our plant in Rossdorf, before we ship it out to you. The benefit for you: The modules that we completely pre-assemble do not require building permits, unlike conventionally manufactured plants.
Our pledge: Everything comes from a single source. We build, we supply, we service.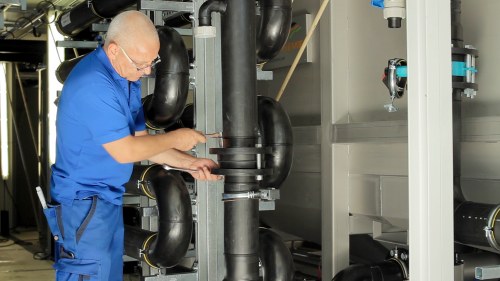 Start her up!
We put the EnviModul into service at your premises.
Rapid final assembly

The EnviModules are pre-assembled and ready to plug in – we connect them to your infrastructure. Prior to shipping the plant, we test it, together with you, to save you time assembling and commissioning on site. That way, the plant can be put into operation more quickly, saving you costs.

The modules replace steel and concrete operations buildings, and can also be used as laboratories and communal rooms. They can also be adapted to different climate conditions, if necessary.

An EnviModul being prepared for shipment from Rossdorf.

Compact plant technology

An EnviModul replaces a steel and concrete operations building. It is semi-mobile, adaptable to different climate conditions, and durable. EnviModul is the perfect solution if hygiene plays a key role in your production architecture, since the water technology is housed separately from the production facilities.

The wastewater technology is compactly housed in the EnviModul, away from production.

Wastewater treatment at the airport

Special vehicles, such as mobile stairs, tow tractors and baggage carts, are cleaned on the airport apron. The washing water is treated with a Lugan® emulsion splitter and then subjected to physico-chemical flotate treatment in a Split-O-Mat®. The installation of the EnviModul plant eliminated the need for extensive civil engineering works and the construction of a dedicated building.

Modular plants for treating wastewater from wash bays and the workshop at Frankfurt Airport.

Challenges in shampoo production

The modular plants offer a globally operating manufacturer of bodycare products the advantage of a basic configuration that is identical at all of the various sites, but can be enhanced to incorporate further elements. The plant technology is adapted to the customer's needs to accommodate regional regulations, production sizes or products being manufactured.

If necessary, the modules can also be transferred to a different location without any problem.

Physico-chemical and biological treatment of wastewater from shampoo production in Romania.

Treating wastewater from tobacco processing in Tanzania

TCC is a tobacco processing company in Tanzania, for which EnviroChemie built a plant housed in two EnviModules for treating sanitary and production wastewater. The cleaned water is used for irrigation. The solution designed for the customer comprised a Biomar® biological treatment stage with Envochem® filtration and disinfection. The plug-in design of the plant meant that only the foundations, and water feed and drainage lines, had to be provided on site.

Treating sanitary and production wastewater with an open-design EnviModul plant.

Safe treatment of food wastewater for direct discharge

EnviroChemie can clean wastewater to specific required limits in an EnviModul Biomar® plant. The EnviModul machine housing includes all of the necessary mechanical and electrical equipment and is installed around pre-fabricated tanks at the customer's site. The Biomar® MBBR (mixed bed biofilm reactors) can safely treat 1,000 – 5,000 m³ of dairy wastewater each day for direct discharge, for example. Flomar® flotation plants are responsible for pre- and post-treatment of the wastewater to remove residual biomass and solids.

Multi-stage EnviModul plant for pre- and onward treatment of wastewater from an industrial dairy, complete with machine housing, laboratory and communal rooms.

A disposal centre in tropical climes

EnviroChemie Tratamentos operates a disposal centre near Rio de Janeiro to which numerous small and medium-sized industrial companies operating in the metal processing, chemical and pharmaceutical industries, printing companies, and companies that use paints and varnishes bring their wastewater. Following analysis, the wastewater is subjected to the appropriate treatment. The plant technology is compactly housed in EnviModules.

Physico-chemical treatment of wastewater at a disposal centre in Rio de Janeiro, Brazil, partly open design.
We share our expert knowledge
Your staff benefit from our training programmes
Easy to use
Deep down inside, the EnviModul is full of outstanding engineering expertise, but on the surface it is easy to operate. We will show you how! We can train your staff on site if you want. Together we can optimize your plant.
Our German engineers are eager to share their in-depth knowledge with you: we support the genuine and fair transfer of knowledge.